2022 INFINITI Q50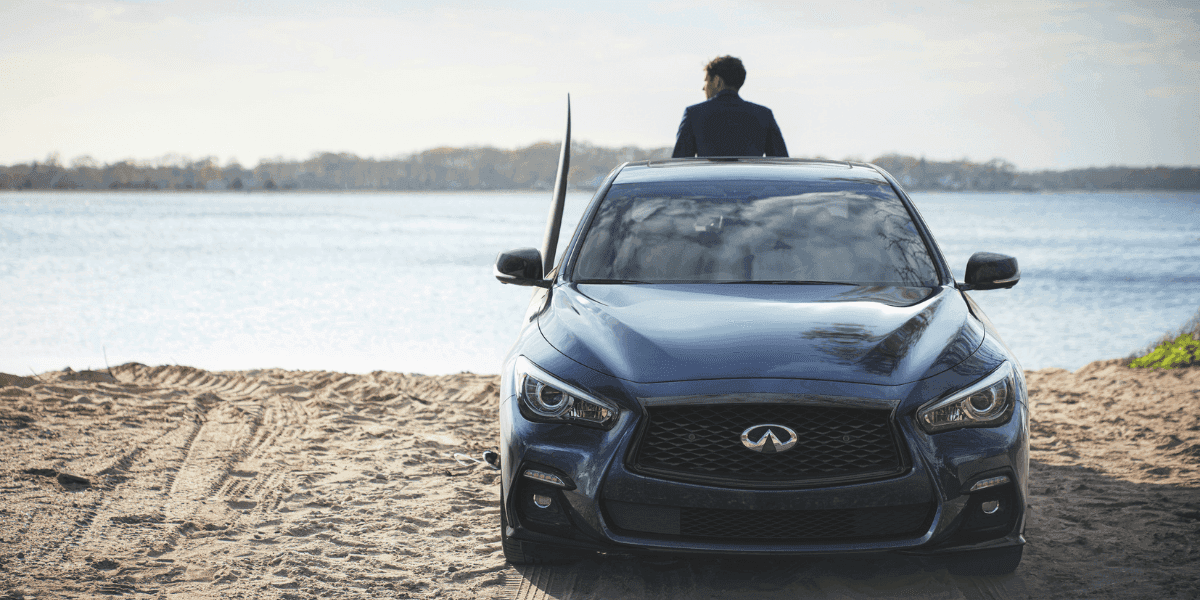 2022 INFINITI Q50- LUXURY THAT THRILLS

Whether you're taking your friends out on the town or treating yourself to an exhilarating drive, the 2022 INFINITI Q50 always leaves an impression. Featuring a chiseled, athletic design and artful, soul-stirring details throughout – INFINITI Q50 is built for real life, real thrills and real luxury.
INFINITI Q50 KEY FEATURES:
PERFORMANCE
IT MOVES YOU. LITERALLY, AND FIGURATIVELY.
3.0-LITER V6 TWIN-TURBO ENGINE
The INFINITI Q50's 3.0-liter twin-turbocharged engine is now standard for 2022 INFINITI Q50 model, and delivers up to 400 horsepower with truly breathtaking performance. The engine block is crafted entirely out of aluminum to reduce weight and increase responsiveness. The 300 horsepower version gets up to 29 mpg on the highway.
400 HORSEPOWER
26 HWY MILES PER GAL
3.0T 6 CYLINDER ENGINE
350 LB-FT TORQUE
POWER + TECHNOLOGY
A ROAD DOMINATING COMBINATION
When power and technology work together harmoniously, you're able to perform at another level. INFINITI Q50, available at Flemington INFINITI, premier INFINITI NJ Dealer, harnesses the raw, visceral power of its standard 3.0-liter V6 and translates it into meaningful performance with a suite of innovative technologies.
INTELLIGENT ALL-WHEEL DRIVE (AWD)
INFINITI Q50 PUTS POWER WHERE YOU NEED IT
Available Intelligent All-Wheel Drive can instantly adapt to changing conditions. Wheelspin, throttle, and speed are monitored and up to 50% of the available power can be sent to the front wheels for better traction. When All-Wheel Drive isn't needed, the rear wheels get 100% of the power for a more classic sports car feel.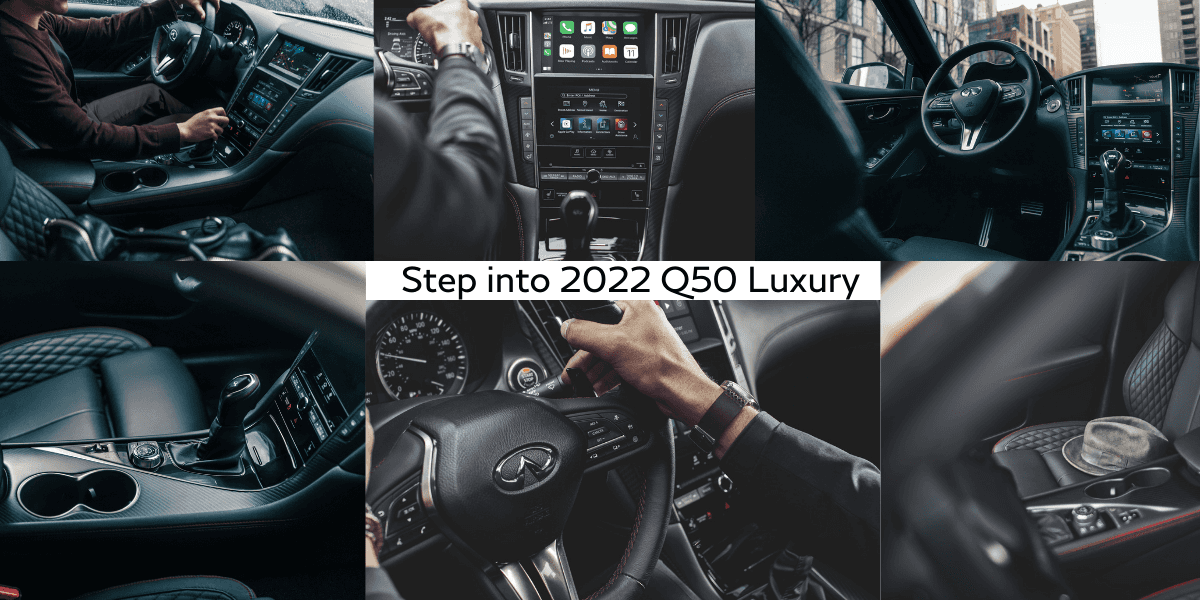 DYNAMIC DIGITAL SUSPENSION
HANDLE WITH INSTANT ADAPTABILITY
With this available feature, all 2022 INFINIT Q50 model recalibrates the balance between comfort and performance into something revolutionary. Use the touchscreen display or drive mode selector switch to choose your preferred suspension firmness and reveal a highly personal and responsive experience.
DRIVE MODE SELECTOR
CHOOSE YOUR DRIVE
INFINITI Drive Mode Selector takes performance and control to a more refined level. The result is one that suits the moment and more importantly, can be tailored exactly to your driving style.
DESIGN
EVOLVED
Emotion begins with a simple experience. As time goes on, our sensations grow and progress. It's only fitting that the shapes around us follow suit. INFINITI continues to break through convention, pushing the limits of sedan styling with the new 2022 Q50.
LED HEADLIGHTS
INFINITI's expressive illumination is centered around two multi-mode jeweled headlamps, accented by LED daytime running lights.
CRESCENT WINDOW
The artful crescent-shaped design arcs rearward, evoking motion while creating a feeling of space and providing greater outward visibility for rear passengers.
SCULPTED BODY
As though chiseled from athleticism, its fenders flare with muscular tension. Broad-shouldered, poised, with a low, wide-swept stance.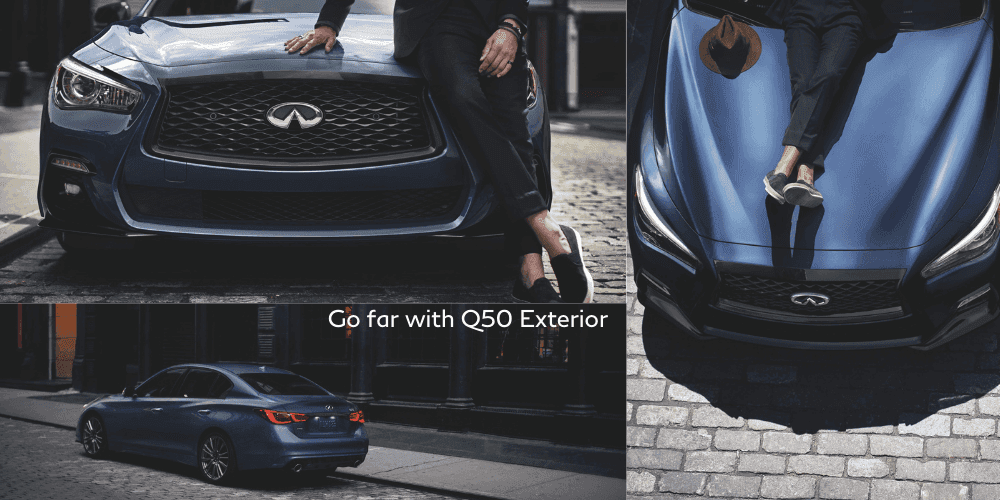 HUMAN ARTISTRY
UNDENIABLY POWERFUL. UNMISTAKABLY NATURAL.
The power of design is in its ability to transcend boundaries and create feeling. From eye-inspired headlights to a prominent grille and sport-styling, Q50 is a pure expression of INFINITI's stirring design concept.
LUXURY DESIGN
AN ELEVATED DESIGN EXPRESSION
A breakthrough in luxury design, this elegantly crafted 2022 INFINIT Q50 carries a purpose-built statement. Low enough to stick to the ground. Wide enough to command attention.
SPORT-LIKE DESIGN
DESIGN THAT KNOWS NO BOUNDS
When sports vehicle design is measured by the rules it breaks, instead of the ones it follows — by the conventions it defies, instead of those it embraces — it becomes free to adapt form and function to new purposes.
SPORT FASCIAS
The available sculpted front fascia was designed to be both aerodynamic and aggressive.
Bold curves across the front and rear fascias seamlessly and subtly bring the entire exterior together.
UNIQUE 19-INCH WHEELS
The Q50 RED SPORT 400 makes its intentions known with 19-inch sport-design aluminum-alloy wheels and high-performance brakes. The message is clear: the RED SPORT 400 was built to perform.
TECHNOLOGY
PREDICTIVE FORWARD COLLISION WARNING
IT ANTICIPATES THE ROAD AHEAD
INFINITI World's First Technology. This standard system can warn you of risks you may not even see coming. A front-mounted radar constantly scans the road ahead, monitoring the speed and distance of the vehicle in front of you, and the one in front of that one.
FREE YOUR SENSES TO TAKE YOU FURTHER
NEVER LOOK BACK
An unparalleled driving experience requires three things: preparation, confidence and performance. INFINITI's innovative safety technologies combine to elevate the drive and empower the driver.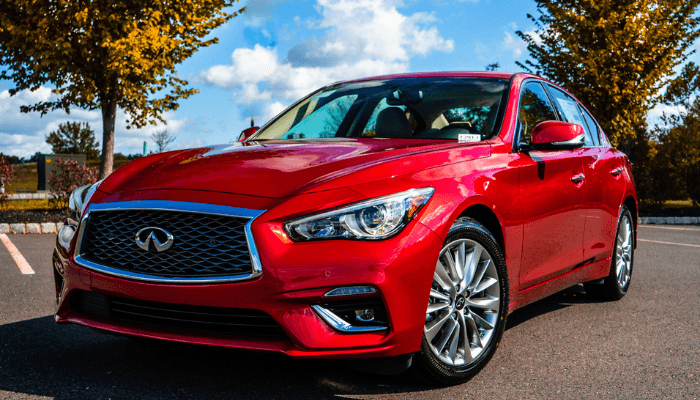 REACTS TO THE UNEXPECTED
FORWARD EMERGENCY BRAKING
Standard Forward Emergency Braking adds another dimension of security. It can detect vehicles in the lane ahead of you, and if action is required, it helps alert you and can apply the brakes to help minimize the severity of a frontal collision—or even help prevent one.
INFINITI Q50 PUTS THE FUTURE OF DRIVING IN YOUR HANDS
DIRECT ADAPTIVE STEERING®
INFINITI World's First Technology
Q50's available Direct Adaptive Steering® digitally transmits steering inputs directly to the wheels so you steer smoother than you ever imagined, with less effort to stay in the lane.
IT PUTS POWER WHERE YOU NEED IT
INTELLIGENT ALL-WHEEL DRIVE
Intelligent All-Wheel Drive can instantly adapt to changing conditions. Wheelspin, throttle, and speed are monitored and up to 50% of the available power can be sent to the front wheels for better traction. When All-Wheel Drive isn't needed, the rear wheels get 100% of the power for more responsive road performance
IT HELPS KEEP YOU ON THE STRAIGHT, AND THE NARROW
LANE DEPARTURE PREVENTION AND ACTIVE LANE CONTROL
A front camera monitors your position in your lane. If it senses you leaving your lane without signaling, a subtle warning sounds. If you continue in that direction, available Lane Departure Prevention eases you back to your lane. Optional Active Lane Control can help you maintain your lane during windy conditions or on uneven roads.
BACKUP COLLISION INTERVENTION
IT GIVES YOU A VIRTUAL BIRD'S-EYE VIEW
When you shift into reverse, the Q50's available Backup Collision Intervention can help detect approaching vehicles and large stationary objects behind you. If necessary, Backup Collision Intervention can help engage the brakes to help avoid a collision.
AROUND VIEW® MONITOR WITH MOVING OBJECT DETECTION
Using four cameras and advanced software, the available Around View® Monitor generates a virtual composite 360° view of your Q50 from above when you are parking, showing you the objects detected around your car. Moving Object Detection helps alert you to moving objects detected within the display image. [*]IT'S LIKE EYES IN THE BACK OF YOUR HEAD
FLEMINGTON INFINITI NJ DEALER
Flemington INFINITI dealer NJ, serving Central NEW Jersey, including Bridgewater NJ, Somerville NJ, the Princeton NJ area, Hillsborough NJ as well as Bucks County PA. All 2022 Q50 new and Certified Pre-Owned is available for test drive and immediate delivery at your best INFINITI Dealer in NJ.