Press Release Flemington INFINITI NJ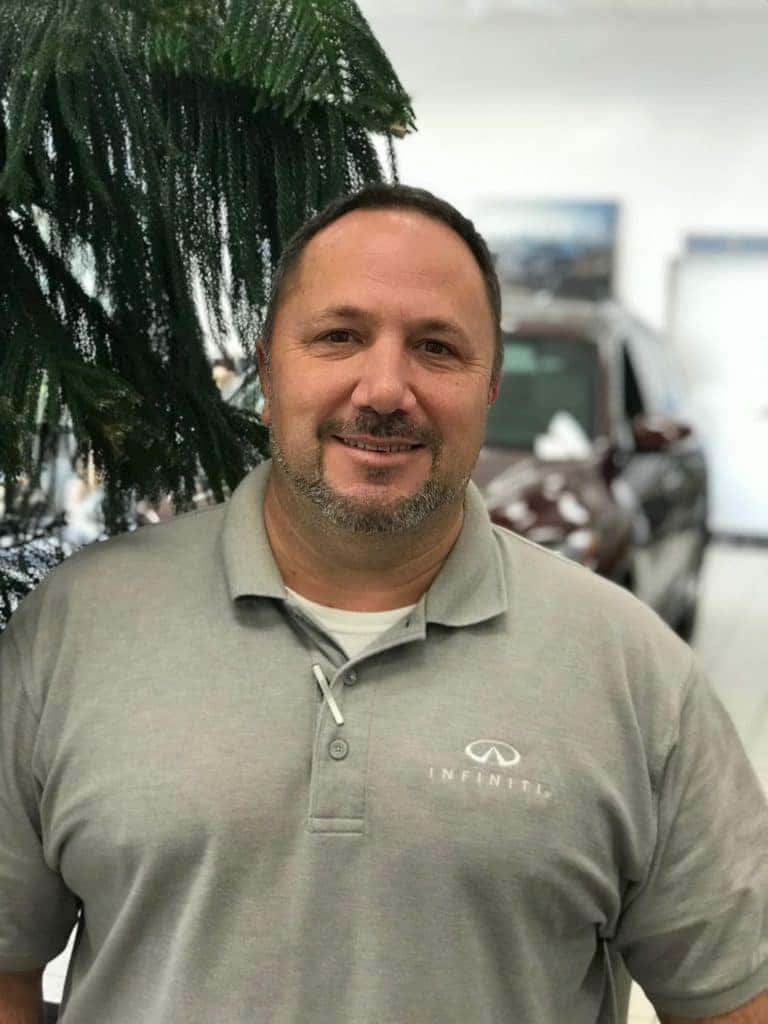 FLEMINGTON INFINITI'S ED SHOEMAKER
ACHIEVES NATIONAL INFINITI
CUSTOMER SATISFACTION HONOR
FLEMINGTON, NJ… Flemington INFINITI has announced that Service Advisor, Ed Shoemaker has been recognized by INFINITI USA for his achievement as an INFINITI Service Advisor for the year 2020 in providing outstanding customer service and satisfaction as a "Customer-Facing, Retail Front-liner."
"I'm not one for being in the spotlight, so when I received a barrage of congratulatory phone calls I didn't know how to react. I love to come to work every day to do my job and take care of our customers. I try my best to be fair, honest and open. This award proves that our customers appreciate that approach," said Shoemaker. "The credit for this recognition also goes to my co-workers who do their part every day at Flemington INFINITI to make this a great place to work."
INFINITI USA announced that they will be recognizing Top ISSI/ICSI Sales & Service Consultants and top FRFT Technicians in their newsletter. Both INFINITI Service Advisors and Technicians will be interviewed and featured. They will be honored for their excellence in providing outstanding customer service and satisfaction. In order to achieve the status, dealers must exceed customer expectations every day in every department. Eligibility is determined via customer survey responses regarding their sales and service satisfaction.
 "I congratulate Ed along with our Flemington INFINITI team for this wonderful achievement" said Steve Kalafer, Chairman of Flemington INFINITI and the Flemington Car & Truck Country Family of Brands. "We strive to be the best we can for our customers and this recognition confirms that Ed and his team are succeeding.  They've put their best foot forward every day and it shows."
"Ed is such a huge contributor to our team here at Flemington INFINITI. A dedicated employee, he genuinely wants to make his customers happy," said Steve Kiley, General Manager of Flemington INFINITI. "I couldn't be more proud of him for this outstanding accomplishment. "
"It's just Ed being Ed," added Rob Heyducek, Service Manager at Flemington INFINITI. "There aren't any surprises when it comes to Ed…he's here every day and a consistent contributor to our success."
"Our store has a strong reputation for providing good service. That's because we work well as a team taking care of our customers, treating them as we would a friend or relative. Even during the difficult months of this year, we did our best to serve our customers, understanding their concerns and going out of our way to make them comfortable. It's what we do every day," said Shoemaker.
Ed Shoemaker, a Flemington, NJ resident is married and has two boys. November 2020 marks his eleventh year at Flemington INFINITI where he started in the Prep Department and as an Assistant Service Advisor before he quickly worked his way up to his Service Advisor Desk.
Flemington INFINITI is a proud member of the Flemington Car & Truck Country Family of Brands – Family, Independent…Not Corporate – which represents 16 automotive brands in the central New Jersey marketplace. They have 8 dealership locations on Route 202 & 31 in Flemington, NJ. For more information on Flemington INFINITI call 908-782-6868 or visit www.FlemingtonINFINITI.com. For more information on the Flemington Car & Truck Country Family of Brands call 1-800-Flemington or visit www.Flemington.com.